Compare Our
1st National Bank Checking Accounts
---
Checking Account Comparison
Use our helpful checking accounts comparison below to compare the benefits of each account so you can choose the right account for you.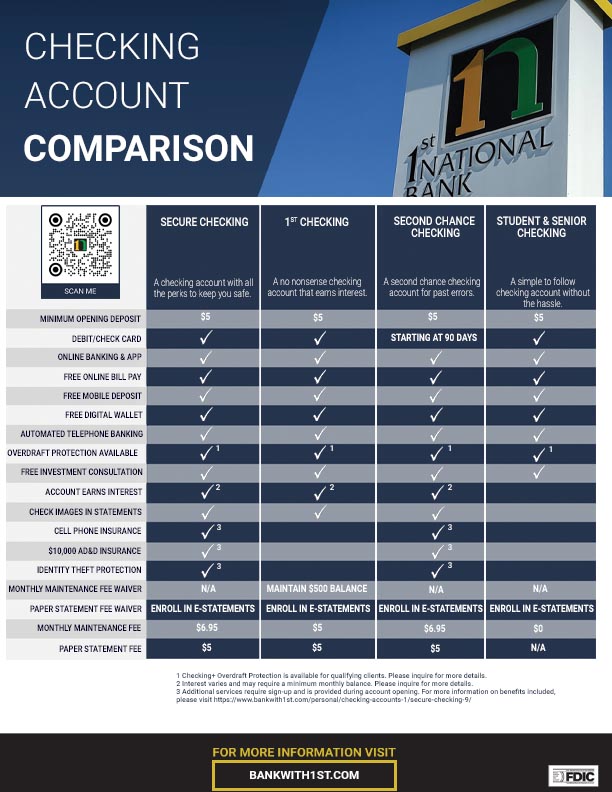 ---
Your 1st National Bank Checking Accounts to Choose From
---
-Secure Checking Accounts
Secure Checking is packed with benefits to help save you money and keep you safe with benefits like credit monitoring and reporting, identity theft protection, cellphone protection, travel & leisure benefits, and more!*

-1st Checking
1st Checking is a great starter checking account to help kids and teens learn how to manage their money.

-Second Chance Checking Accounts
Second Chance Checking helps you re-build your financial standing. If you show up on ChexSystems, this is the account for you. We are here to help you Bank your best.TM

-Student & Senior Checking Accounts
Student & Senior Checking has no monthly maintenance fee and is great for those on a no, low, or fixed income.
---
*Additional services require sign-up and is provided during account opening. For more information on benefits included, please visit secure checking benefits summary for more information.
Explore the resilience of community banks during the SVB crisis, understand their unique advantages, and learn how FDIC insurance and smart financial practices keep your deposits secure.
Learn how to create a budget, start investing, manage debt, and build a solid financial foundation with these easy-to-follow tips.  Are you ready to take control of your finances but unsure where to begin? Don't worry; we've got you covered with straightforward tips and key aspects to consider as you embark on your financial journey. In this guide, we'll discuss […]
Traditional IRAs vs. Roth IRAs | Taxes and Building Wealth The year is wrapping up and a goal for a lot of Americans means building wealth for a stable future. For many this means re-working the family budget, looking for money-saving discounts, and learning new ways to keep more money in the bank. One great way to keep […]