Account Services
Welcome to 1st National Bank's Account Services Page
On our Account Services page, you will find an overview of the digital banking services offered at 1st National Bank. Learn about our services such as:
---
Online Banking
Online Bill Pay – send payments to companies or a check to your kid
Recurring payments or single payments can be scheduled
Transfer Money between banks (your name must be on both accounts)
Stop Payments
Reorder checks
View history of your transactions and your statements
Enhanced security – receive alerts when transactions occur or your balance changes
Send and receive secure messages
Download transactions to accounting software
Find branch locations, hours, and phone numbers
---
Online Banking Alerts



With our new real-time alerts, you can keep even better track of your money and spend less time doing it. Simply set up your alerts and live your life.
Want to know if your balance drops? How about when a deposit is made? With our real-time alerts, you'll know the moment it happens, without ever logging in. They're not only convenient, they can also help you spot signs of fraud and identity theft.
---
Online Bill Pay



What if I said paying bills was fun? Ok, maybe not. What if I said it was simple convenient and secure?
Bill Pay Your central hub for all your payments, regardless of who gets paid. Local gym membership? We'll send a paper check. Cable provider? Electronic check. Baby Sitter? You know, the one who prefers to be paid in real time.
Use Zelle and she can spend that money on her way home. With millions of users across the U.S. and our nations largest network of billers, paying bills, or anyone else for that matter, is like executing the perfect high five. Plus, hundreds of our billers let you go paperless with eBills.
---
Zelle®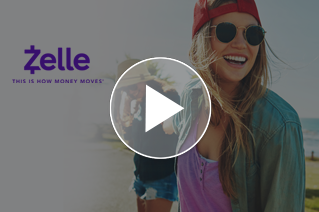 Whether it's saving you a trip to the ATM or taking out the guesswork of divvying up the cost of the lunch tab, Zelle® is a fast, safe and easy way to send and request money with friends, family and others you trust2.
Money is sent directly to the recipient's account and is typically available in minutes1, and all you need to send money is the recipient's email address or U.S. mobile phone number.
---
eStatements



In the fast paced and ever changing world of banking technology, one thing has remained: a commitment to ease and security. How you receive important financial documentation can be integral to banking safety.
eStatements: Simple, more Secure, more Convenient.
---
Mobile Banking App



Mobile Banking is the ultimate on-demand service.  Now, you can securely access your account information from any mobile device with text messaging, mobile web, or Google Play and Apple applications.
Imagine the convenience of viewing your account balances or recent transactions from your mobile device.  How about transferring funds between accounts, anytime, anywhere?  Be notified when account balances reach a certain level or a paycheck is deposited.
Our Mobile App delivers account alerts to you wherever you may be.  You can also deposit checks, pay your bills using, and use Zelle® to quickly transfer money to friends and family.  And our Mobile App is a free service!
---
Mobile Banking Alerts



With our real-time alerts, monitoring your account activity is easy.
Want to know if your balance drops? How about when a deposit is made? Or when your debit card is used? With our real-time alerts, you'll know the moment it happens.
They can even help spot signs of fraudulent activity, so you can take action right away. Alerts can be activated from the More page, or by selecting the quick link on the Accounts page.
---
Mobile Deposit



Making a deposit on the go is easy!
From "Deposit", you can easily deposit a check as well as review your deposit history.
---
Mobile Wallet



No more fumbling through your wallet to find your card. Just add your 1st National Bank Cards to your mobile wallet and you're ready to go. It works with Apple Pay, Google Pay, and Samsung Pay.
---
1st OnCall
Bank by phone while you are on the go.  Call (513) 228-0019 or (888) 932 3221.
These services are available to you:

Information about your loan or deposit account
Transfer funds between accounts
Recent transaction lists
Fax statements anywhere
Reorder checks
Transaction searches
Stop Payments
Interest rate information
Report lost or stolen cards
---
Questions about our Online Services?
If you have questions about any of our services, please call us at (513) 932-3221, email customerservice@bankwith1st.com, or submit a contact form.
If you need assistance paying a bill, or researching a bill that was paid, please call 1 (855) 827-0367 between the hours of 7:00 PM and 1:00 AM, 7 days a week for support.
---
1st Online Disclosure
Bill Pay Terms and Conditions
App Store is a service mark of Apple Inc. Apple and the Apple logo are trademarks of Apple Inc, registered in the U.S. and other countries.

 

Android, Google Play, and the Google Play logo are trademarks of Google Inc. Data charges may apply.

 

Check with your mobile phone carrier for details.

 Zelle® and the Zelle® related marks are wholly owned by Early Warning Services, LLC and are used herein under license. 1 Transactions typically occur in minutes when the recipient's email address or U.S. mobile number is already enrolled with Zelle®. 2 Must have a bank account in the U.S. to use Zelle®. 3 In order to send payment requests or split payment requests to a U.S. mobile number, the mobile number must already be enrolled with Zelle®.