Station Court: A New Dawn for College Hill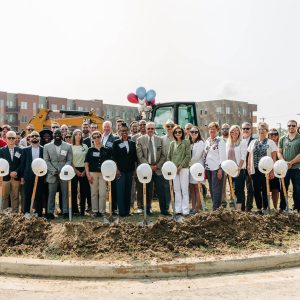 September 2023 – Welcome to Station Court, a groundbreaking project that's set to redefine College Hill's vibrant business and entertainment district. Crafted by Traditions Building Group, in collaboration with the City of Cincinnati and the College Hill community, and financed by 1st National Bank, this dynamic development promises to add a modern flair to an already thriving neighborhood.
"1st National Bank is honored to partner with Traditions Group and share in their vision of Station Court. Doug Hinger and his team once again succeeded in the development, planning, and execution of Station Court."   Karen Miles, EVP Commercial Lending, 1st National Bank.
The Vision
Station Court brings 31 distinctive single-family City Home residences right in the heart of College Hill. These homes are the epitome of luxury living, featuring modern architecture, open floor plans, upscale finishes, and even shared amenities like a fitness center and dog park.
But what truly sets this project apart is its commitment to the environment, offering residents a 15-year LEED Silver Tax Abatement. With prices starting in the upper $500s, these two to three-bedroom homes are customizable and can include unique features like rooftop decks or a bonus recreation room.
A Partnership Rooted in Success
1st National Bank's partnership with Traditions Group and D-HAS Development is no coincidence. Aligned in their dedication to customer service and a shared vision for urban renewal, 1st National Bank provided the essential construction financing needed to make the City Series project a reality.
"We've always found the folks at 1st National Bank to have a straightforward approach to helping us succeed," says Doug Hinger, President of Traditions Group's Homebuilding Division. "This collaboration has allowed for unique projects like Station Court that are catalytic in nature, stimulating further development within Cincinnati's older walkable neighborhoods."
College Hill Has Arrived
With the support of 1st National Bank and the dedication of Traditions Building Group, College Hill is not just emerging; it has arrived. Station Court is the perfect addition to a lively shopping and entertainment district, allowing new residents to walk to an array of fabulous local shops, restaurants, and bars.
Find out more about Station Court on TraditionsGroup.com and discover how 1st National Bank continues to invest in the growth and prosperity of Greater Cincinnati. Join us in welcoming a new era of modern, sustainable, and vibrant living in College Hill!
The Traditions Group Links
1st National Bank Links