A Grand Opening Event At Liberty Township Banking Center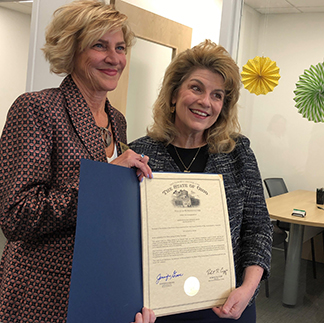 LIBERTY TOWNSHIP, OHIO | APRIL 21, 2022 – 1st National Bank hosted their Liberty Township Grand Opening and Ribbon Cutting Ceremony on Wednesday, April 20th, 2022. The West Chester Liberty Chamber Alliance presented Jillora Summers, CEO of 1st National Bank, with a commemorative plaque celebrating the bank's newest banking center.
Representative Jennifer Gross of the 52nd district also presented Mrs. Summers with two certificates of achievement, one from The Ohio Senate and the other from The Ohio House of Representatives. These certificates were signed by the Speaker of the House of Representatives Robert R. Cupp, Senator Matt Huffman, Senator George Lang, and Representative Jennifer Gross.
"1st National Bank is honored to have the opportunity to serve the businesses, residents, and community of Liberty Township. 1st National Bank is looking forward to the continual growth of relationships with Liberty Township and success of the members of its community." – Jillora Summers, CEO 1st National Bank
The Liberty Township banking center is the latest in 1st National Bank's growing network, following the opening of their Loveland and Centerville banking centers. The new banking center is equipped with private banking suites, a technology center, coffee bar, lounge, ATM, and more.
1st National Bank has served the southwest Ohio community since 1853 and takes pride in providing the best products for each individual's financial goals. They are focused on educating, serving, and giving back to the community in which they live and love. Visit the Liberty Township Banking center and talk to their friendly bankers about how 1st National Bank can help you Bank Your Best.™






Specials will continue all month! Stop in before 5/20/2022 and enter to win First Watch for a year!*
*Full terms and conditions at 6876 Cincinnati-Dayton Rd. Liberty Township, OH 45044