New Bank Headquarters In Lebanon Ohio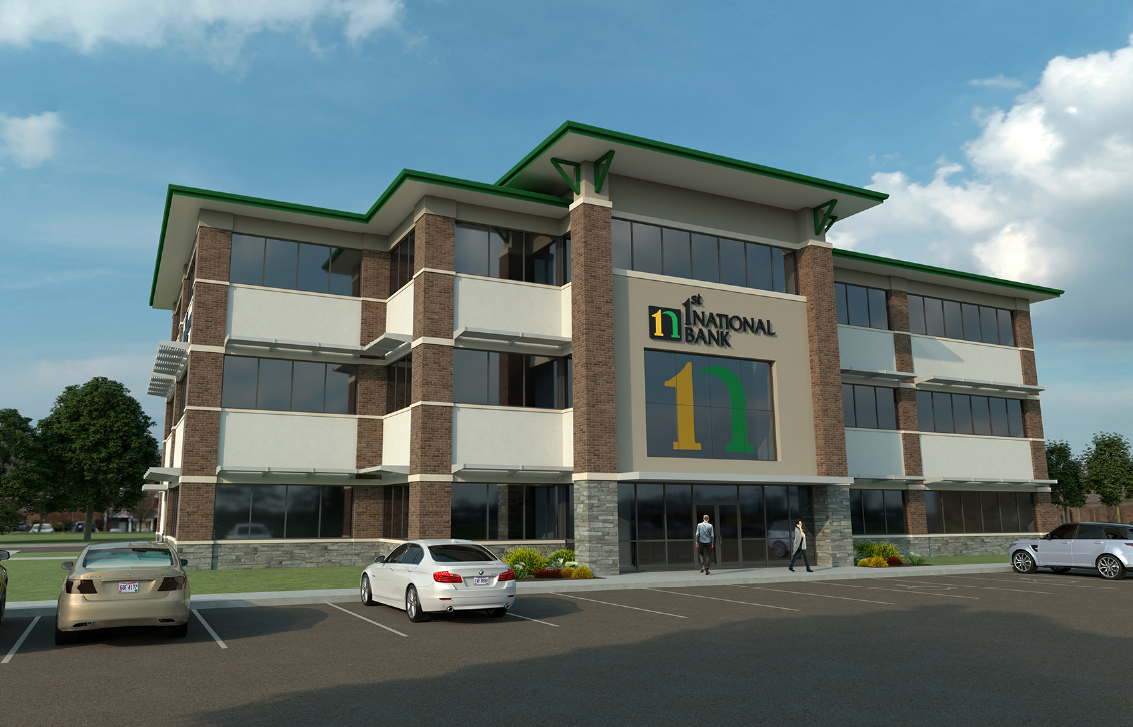 LEBANON – 1st National Bank is breaking ground on a new main office and corporate headquarters in Warren County Ohio. The growth of the bank facilitated the decision to increase office space and capacities for all clients. The building is being constructed adjacent to the current administration building at 1160 East Main Street in Lebanon Ohio.
With a projected investment of 8 million dollars, the enhanced three-story headquarters will house executive and administrative offices, financial planning, corporate training, commercial lending, and a state-of-the-art banking center for full-service financial needs. 1st National Bank partnered with a local firm, DEI Incorporated, on the build which is expected to be completed by May 1st, 2022.
"DEI is excited to work with 1st National Bank on their new main office. Our goal is to create a personalized facility that reflects the Bank's commitment to their community, as well as provides a welcoming atmosphere for employees and customers," says Jeff Boehmer, DEI's Director of Sales. The 25,000 square foot commercial space will initially house 45 employees with space for expansion.
"For over 150 years, we have been proud to call Southwest Ohio home. We embrace meeting the needs of our clients in both physical space and digital technology. The new headquarters is a testament to our commitment to provide exceptional services to our clients." Jillora Summers- CEO & Chairperson, 1st National Bank.
A groundbreaking ceremony will take place on April 21, 2021, to kick off the project.
About 1st National Bank: 1st National Bank has become one of the premier community financial institutions in Southwest Ohio by creating and delivering quality financial products and services to the people of Warren County and surrounding counties. 1st National Bank delivers up-to-date financial product offerings and superior service to clients through a network of 11 Banking Centers, some of which are open 7 days a week, and a fully digital online banking suite. The bank provides personal service to all clients while emphasizing the importance of local involvement in our communities. To learn more about 1st National Bank, visit www.bankwith1st.com or call (513) 932-3221.
About DEI Incorporated: Since 1985, DEI has transformed banks and credit unions into retail environments, a place to cross-sell products and services, improve efficiencies, and increase the bottom line. DEI helps its clients Redefine, Rethink and Reimagine their facilities, space, and branch footprint strategies. A forward-thinking architectural design/build company, DEI has designed, built, or remodeled over 1,800 financial facilities. DEI is a leader in creating banking facilities that use the latest technology and delivery systems to provide state-of-the-art retail solutions that help clients improve their return on investment. DEI is headquartered in Cincinnati, Ohio, and has additional offices in Texas, Indiana, New York, and Florida.