How to Plan Your Finances

Are you looking to plan your finances but don't know where to start? Never fear, we have some helpful tips and things to consider to get you on your way. In this article, we will cover how to plan your finances and things to consider while planning.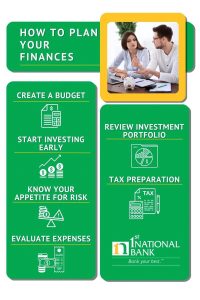 Create a Budget and Stick to It
The first thing to consider when creating a budget is your goals and their importance. You need to look at your income and expenses. This will give you an idea of your cash flow and help you divvy out your money efficiently. We recommend doing this at least annually and breaking down your budget by month. When you follow your budget, you are staying on track with your planning and goals.

Start Investing Early
It is important to begin investing early. Looking at your budget, you should allocate some of your money towards regular investments. Investing early is important because it allows you to take advantage of compounding interest on your investments. Compounding interest has the potential to increase your returns exponentially over the life of your investment.

Knowing Your Appetite for Risk
Consider how much risk you are willing to take when investing. Higher-performing investments typically carry more risk of losing value as opposed to lower-performing investments carrying a lower risk of losing value. Determine the assets that fit your risk appetite and invest accordingly.

Evaluate Your Non-Essential Expenses
Break down your spending into essential expenses and non-essential expenses. This will help you create a plan for making large purchases. Ask yourself if that purchase is necessary. If it is, then start setting aside money for the purchase each pay period. Purchasing items with this strategy helps ensure that you can make the purchase without affecting your overall financial health.
We also recommend monitoring your credit balance and limit. You want to make sure you have enough money to pay off the balance at the end of the month. This will help you avoid falling into debt.

Review Your Investment Portfolio
You may not be getting the most your of your investments if you just let them sit. Reviewing your portfolio regularly affords you the opportunity to adjust your investments to match your goals. By reviewing your portfolio, you are able to move funds from a low-performing investment to one that can give you more returns.

Tax Preparation
Plan for paying your taxes sooner than later. Planning early helps you avoid last-minute decision-making. Keep track of every tax exemption and possible rebate you may qualify for across all of your investments. Consider your goals, financial standing, and portfolio performance in regard to our current economic climate.
Things to Consider While You Plan Your Finances
Insurance
It is important to consider the cost of life and health insurance, especially if you are on a tight budget. Prioritizing insurance will help mitigate the damage a large expense could have on your savings.

Managing Your Debt
Develop a payment strategy to pay off high-interest debt as fast as possible. Doing so will allow you to save money and invest that in other ways to build your wealth.

Emergency Savings
Having money set aside for an emergency is essential to financial health and planning. Approximately 24% of consumers say they do not have savings set aside for emergencies. Don't let this be you. Having emergency savings set aside gives you a cushion for events such as medical bills, unemployment, and major repairs.

Consider Inflation
Consider inflation when making decisions in investing and saving. Investments should at least keep up with inflation. Make sure you have limits for expenses and a minimum savings amount in mind.

Plan Your Finances for Retirement
Start planning for retirement as soon as you can. A smart way to invest for your retirement is by allocating money in small amounts towards multiple long-term investment options. This way you have a diversified retirement portfolio securing your financial future.

Monitor Your Credit Score
Big life events often come with a large price tag. Ensuring you have a healthy credit score allows you the opportunity to receive a loan. Lenders factor in your credit score when assessing the risk associated with lending money to you. Financing a large purchase allows you to keep more money on deposit to put toward investment or savings.

Wrapping Up
Put together a list of tasks for monitoring your finances according to your goals. Save reminders in your phone for re-occurring payments and stick to your budget.
Budgeting and financial planning can be overwhelming tasks. But, if you follow your plan and take it one step at a time, you can improve your financial health.
1st National Bank offers financial tools such as personal lending, mortgage lending, online bill payment, financial calculators, automatic savings transfers, and credit monitoring with a Secure Checking account to help you stay on top of your finances. We also offer wealth management and financial planning to assist in meeting your financial goals. Schedule a free consultation with Travis, President of 1st National Wealth Management to get started.
Important Notice: Links to the interactive calculators and information provided below are made available to you as self-help tools for your independent use and are not intended to provide investment advice. We can not and do not guarantee their applicability or accuracy in regard to your individual circumstances. All examples are hypothetical and are for illustrative purposes. We encourage you to seek personalized advice from qualified professionals regarding all personal finance issues.
The material provided on this Website should be used for informational purposes only and in no way should be relied upon for financial advice. Also, note that such material is not updated regularly and some of the information may not, therefore, be current. Please be sure to consult your own financial advisor when making decisions regarding your financial management.
Secure Checking benefits such as Credit Monitoring requires activation. Contact a banking center for more details.
Member FDIC. Equal Housing Lender.