FHA Loans
Federal Housing Administration (FHA) loans and what it means for you.
---
What is an FHA loan?
FHA loans have been around since the Great Depression. They were created by the federal government to help middle to low-income families lacking savings and credit qualify for a loan. Since these loans are guaranteed by the federal government, there is less risk to the lender if the borrower defaults on their loan. This opened the door for more lenient qualification terms.
---
How is an FHA loan different from a conventional loan?
Conventional loans aren't backed by anyone other than the lender. Because of this, there are more strict qualifications for a conventional loan since the lender is assuming all of the risk.
FHA loans are ideal for someone that doesn't have much set aside for a down payment, high debt-to-income (DTI) ratio, or if you have a lower credit score. You would need a strong credit score to qualify for those advantages on a conventional loan.
There are pros and cons to both types of loans including but not limited to mortgage insurance requirements, loan limits, and property appraisal requirements. So it is important that you know your financial standing and prioritize your homebuying decisions.
---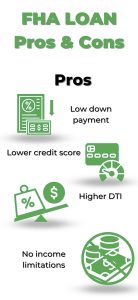 FHA loan: Pros & Cons
Pros:
Low down payment – FHA loans allow for as little as 3.50% down payment and you still receive competitive rates
Lower credit score – Conventional loans require you to have a strong credit score. FHA loans can be closed with a score as low as 500
Higher DTI – FHA loans afford more lenient DTI for borrowers. Borrowers with a 43% DTI or lower can qualify.
No income limitations – There is a myth that FHA loans are for limited income or first-time homebuyers. False. There is no max income limit that would prohibit you from funding.
Cons:
Mandatory MIP payments – To mitigate risk to lenders, you will have to pay Mortgage Insurance Premiums (MIP) for either 11 years or the life of your loan depending on your down payment amount.
Less competitive – FHA loans could make the sellers hesitant to accept your offer compared to a higher cash offer.
Property restrictions – There are strict criteria for properties funded by an FHA loan. It is important to know if your property qualifies before making an offer.
Loan limits – FHA loans often have a lower loan limit so you might not be able to afford a more expensive house. That's fine because you have less to pay back.
---
How do I qualify for an FHA loan?
Even though it is easier to qualify for an FHA loan you still need to meet the minimum requirements. The loans are federally backed, but the funding comes from an FHA-approved lender (like 1st National Bank) and the lender might have different qualifications.
---
FHA loan minimum requirements:
Minumum 500 credit score
DTI at or below 43%
2-years proof of steady employment
3.5% – 10% down payment
Property qualifies for FHA loan
Below FHA max loan amount ($822,375 as of 2021)
---
How do I get approved?
Decide if an FHA loan is the best fit for you. Can you qualify for a conventional loan? Is your credit score, DTI, or savings preventing you from qualifying? If you aren't sure, contact one of our mortgage bankers today to discuss your options.
Call 1st National Bank to start your pre-approval application.
Get pre-approved to see how much you can borrow for your new home.
Submit your FHA loan application when you have found a qualifying property.
---
Apply for your FHA loan online today!
Conventional loans aren't as flexible as you would like, you have trouble qualifying for a conventional loan, or need some help finding the right loan for you? Contact us today to get started or you can apply now online with the button below.