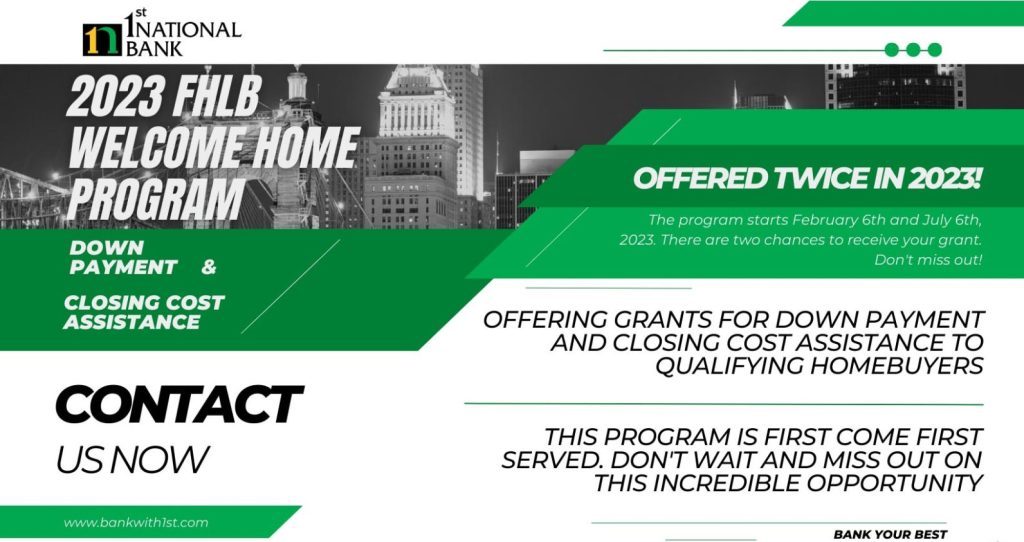 FHLB Down Payment Assistance Makes Home Buying Affordable – Even Use A Grant For Closing Costs!
Reserve Your Spot For Gov Grants | Limited Funds For 2023 | First Come – First Serve | February 6th & July 6th, 2023
What is a Welcome Home Program Loan?
1st National Bank is a Federal Home Loan Bank (FHLB Grant) Cincinnati Member Participating Bank. Homebuyer Housing Assistance makes affordable housing possible. Apply today to see if you qualify for an FHLB grant from the Welcome Home Program or other grant programs available to Cincinnati, Ohio residents.
Grants of up to $15,000 for honorably discharged veterans, surviving spouses of military personnel, and active-duty military homebuyers
Up to $10,000 for all other homebuyers
What are the FHLB Welcome Home Grant Money Eligible Homebuyer Requirements?
The total income for all occupants who will reside in the home is at or below 80 percent of the Mortgage Revenue Bond
(MRB) limit for the county and state where the property is located
A fully executed (signed by buyer and seller) purchase contract on an eligible property is in hand
The homebuyer has at least $500 of their own funds to contribute towards the down payment and/or closing costs
If a first-time homebuyer (typically anyone who has not owned a home in the last three years), a satisfactory homebuyer
counseling course is completed prior to the loan closing. Note: Applicants do not have to be first-time homebuyers.
What are the FHLB Welcome Home Grant Money Eligible Property Requirements?
The property will be the homebuyer's primary residence;
The property is a single-family, townhome, condominium, duplex, multi-unit (up to four-family units), or a qualified
manufactured home. (Manufactured homes may be eligible if they are taxed as real estate and affixed to a permanent
foundation)
The property is subject to a legally enforceable five-year retention mechanism, included in the Deed or as a Declaration
of Restrictive Covenants to the Deed, requiring the FHLB Cincinnati be given notice of any refinancing, sale,
foreclosure, deed-in-lieu of foreclosure, or change in ownership during the five-year retention period.
There are two chances this year but don't be late and miss out on FHLB grant money.
Homebuyers must apply and qualify for a mortgage loan to utilize the grant.
The FHLB Welcome Home Grant Process

CLICK HERE TO APPLY EARLY FOR THIS POPULAR PROGRAM
View FHLB Welcome Home Definitions
See Our Mortgage Bankers

Try Our Loan Calculators
Adjustable Rate Mortgage

This calculator helps you to determine what your adjustable mortgage payments will be.

ARM vs. Fixed Rate

Use this calculator to compare a fixed rate mortgage to two types of ARMs, a Fully Amortizing ARM and an Interest Only ARM.

Bi-Weekly Payments

Using bi-weekly payments can accelerate your mortgage payoff and save you thousands in interest. Use this calculator to compare a typical monthly payment schedule to an accelerated bi-weekly payment.

Maximum Mortgage

Use this calculator to determine your maximum mortgage and how different interest rates affect your how much you can borrow.

Mortgage APR

Use this calculator to find the APR on your mortgage.

15 vs. 30 Year

Use this calculator to compare these two mortgage terms, and let us help you decide which term is better for you.

Early Payoff

Use this calculator to determine your monthly payment and amortization schedule.

Mortgage Points

Save thousands of dollars in interest by increasing your monthly mortgage payment.

Mortgage Qualifier

Can you buy your dream home? Find out just how much you can afford.

Refinance Breakdown

Should you refinance your mortgage? Use this calculator to determine when you will breakeven.

Refinance Interest Savings

Use this calculator to see how much interest you can save by refinancing your mortgage!

Rent vs. Buy

Are you better off buying your home, or should you continue to rent?
Take Our Home Buyability Test
Click Here to Take Our Homebuyability Test

Not ready to apply? Not all banks participate – join our exclusive email list.
Be the first to know of any available money left after July 6th, 2023.
Updates on program details as they become available
Helpful Home Buyer Tips
*Member FDIC. Equal Housing Lender. FHLB Participant. Not all applications will qualify. A guarantee to lend is neither offered nor implied based on this advertisement. FHLB grant money available 2/6/2023 and 7/6/2023 until it runs out, typically within a few weeks. Grants are given on a first-serve basis and approved by both 1st National Bank AND FHLB Cincinnati. Additional conditions may apply.
Information and interactive calculators are made available to you as self-help tools for your independent use and are not intended to provide investment advice. We cannot and do not guarantee their applicability or accuracy in regards to your individual circumstances. All examples are hypothetical and are for illustrative purposes. We encourage you to seek personalized advice from qualified professionals regarding all personal finance issues.
This chart is for your information only. It does not include all of the factors we consider in evaluating a loan request such as your payment history and your ability to meet your monthly obligations. We reserve the right of final loan approval. ©2014 The Forms Group, All Rights Reserved.
Are you looking to plan your finances but don't know where to start? Never fear, we have some helpful tips and things to consider to get you on your way. In this article, we will cover how to plan your finances and things to consider while planning. Create a Budget and Stick to It The first thing […]
Traditional IRAs vs. Roth IRAs | Taxes and Building Wealth The year is wrapping up and a goal for a lot of Americans means building wealth for a stable future. For many this means re-working the family budget, looking for money-saving discounts, and learning new ways to keep more money in the bank. One great way to keep […]
Rate Lock Mortgages: What you need to know. What are rate lock mortgages? Rate lock mortgages are a lender's offer to secure a certain interest rate for an agreed-upon term. Rate locks protect you from raising interest rates but also keeps you from taking advantage of falling interest rates. Your lender may offer a "one-time float down" option to […]