Veterans' Valor VA Loan
You've served our country, now let us serve you!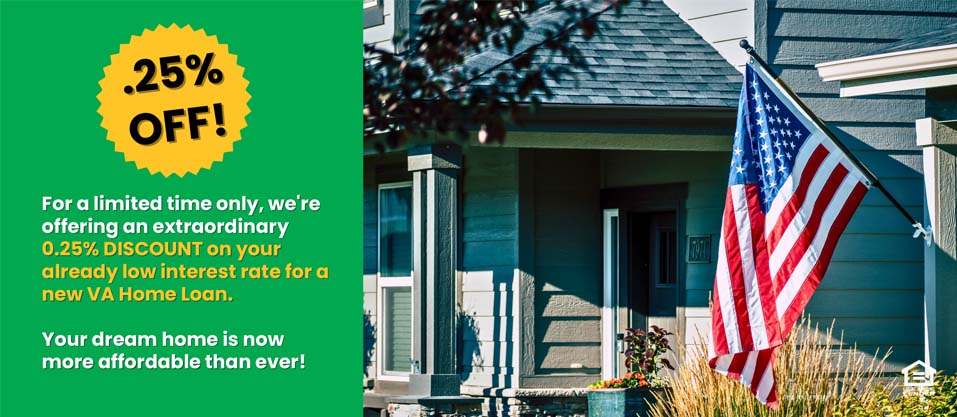 At 1st National Bank, we are deeply committed to supporting our veterans who have courageously served our nation. To show our gratitude, we're introducing our exclusive Veterans' Valor VA Home Loan offer, designed specially for Veterans and active-duty military personnel.
For a limited time only, we're offering an incredible 0.25% DISCOUNT on your VA Loan's already low-interest rate. This is our way of showing appreciation for your commitment and service to our country. With this unprecedented offer, your dream home is now more affordable than ever!
Why Choose 1st National Bank's Veterans' Valor VA Home Loan?
Our Veterans' Valor VA Home Loan is not just a mortgage offer, but a token of gratitude and a testament to our commitment to serving those who have served us. Here's why you should choose 1st National Bank's Veterans' Valor VA Home Loan:
Exclusive Discount: Get an extra 0.25% discount on your already low VA Loan interest rate saving you money over the life of your loan.
Flexible Repayment Terms: Choose from our flexible repayment options to find the one that best fits your financial situation.
Expert Guidance & Support: Our dedicated and knowledgeable team is always ready to assist you through every step of the loan process.
Locally Rooted: We are a locally rooted community bank committed to serving and investing in our community, just like you.
Reliable & Trusted: We've been serving our community for over 170 years with a reputation for integrity, reliability, and personal service.
Fast & Easy Process: We make the loan process simple, quick, and hassle-free.
How to Apply for the Veterans' Valor VA Home Loan
To apply for our Veterans' Valor VA Home Loan offer, follow the steps on our online application portal or visit any 1st National Bank banking center near you. Let us serve you the way you've served us, with dedication and honor.